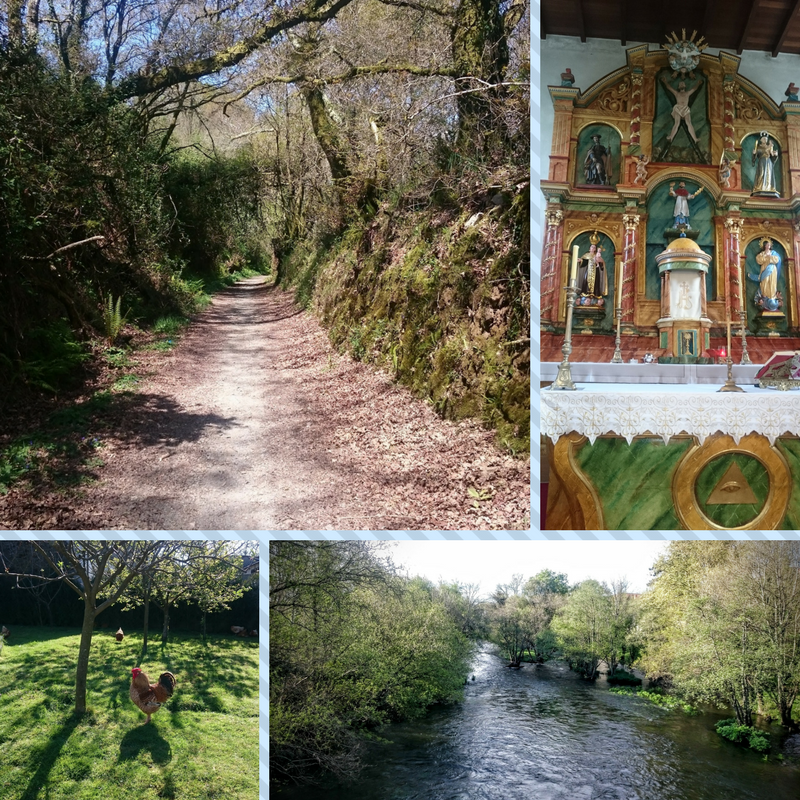 Day Five is when you are suddenly hit by an existential conflict, you are nearing the end of the pilgrimage, and suddenly you are filled with both relief and a strange kind of sorrow. And because it's a sort of in-between day, we go from the sublime to the slightly ridiculous.  On day Five, we walked from Meson Do Vento, or Bruma to Siguero, under 20 kms from our destination, Santiago.
Dinosaurs
Today we were on a fairly easy road, no major climbs or downhills, but also limited bars and cafes. But there was no shortage of farm animals, we saw them all from hens, to dogs to horses, donkeys and cows..and yes, even a dinosaur – and I have a photo to prove it. Dinosaurs and farm equipment dotted this stretch of the road alongside the many statues of saints and camino markers.
It was definitely spring, the trees were only just bursting into bloom, and the crops were already deep green and waist high. When not walking through fields that were green with new crops, we were plunging though remnant patches of verdant forest, frequently alongside rivers, or crossing trickling streams – occasionally in muddy paths that were almost streams in their own right. A time to be grateful for the heavy boots, and a time to take off the boots and plunge our feet into a running stream dappled with sunlight and freezing cold. It was better than any other luxury, except perhaps clean laundered clothes.
Sigueiro
Siguiero was our destination for the day, although many pilgrims choose to walk the 40 kms into Santiago on Day Five, we chose to linger because the trek was short enough, and coming to an end soon. At Siguiero too, we found that the private hostel we had booked into was more of a boutique hotel, complete with a laundry service. So we had the thrill of clean, warm, folded clothes. On the camino you stop taking things for granted.
If you want to read all about the more important stuff, like how you can walk the Camino in just 6 days, check out my book.
If you need some maps of the cities, you can down load them from this page.