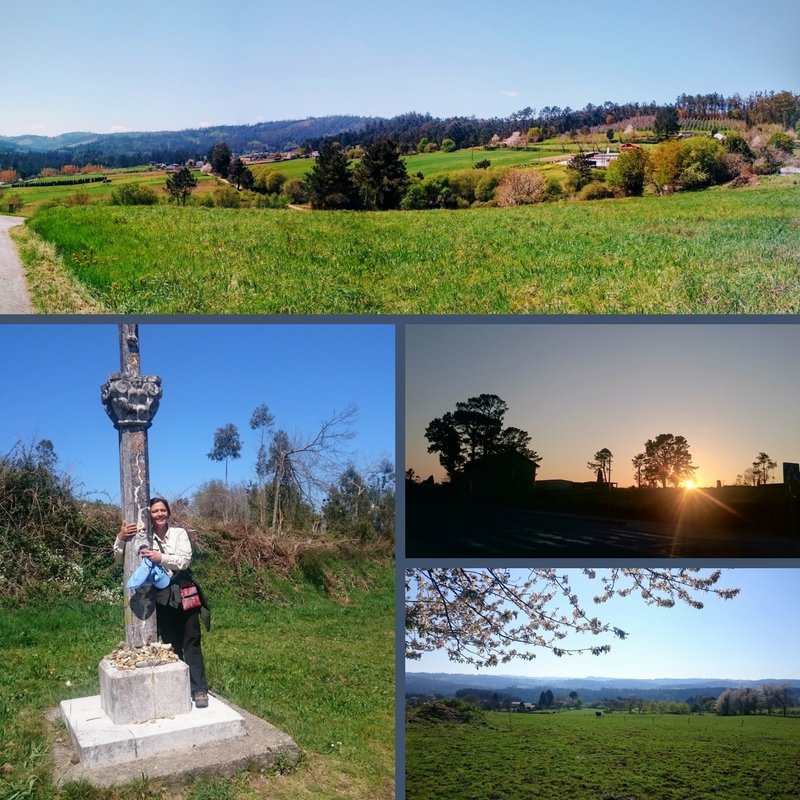 Day Four on the Camino Ingles was the hardest day, with a steep climb out of Betanzos, and then later in the day, the longest and steepest climb from Cafe Julia to Visono and then a long stretch into Bruma. But you are rewarded with great vistas and an eye-blindingly bright decor at the restaurant at Presedo. Day Four is also the midpoint of your hike, sometime in the middle of the day, you are suddenly closer to Santiago than to Ferrol and that makes a huge difference to your psyche. The path is mostly fields, with a few patches of forest, which was good as it was a hot day. However, today, route changes have made it an easier walk, with the rerouting of the path from Leiro to A Travesas totally skirting the steep hill.
Here we passed the Museo- Meson, a gloriously garish restaurant in Presedo. It was too early for lunch, but with our new rules in place, we had cafe con leche. It's a rule that you have to stop and have a café con leche whenever you find it on the Ingles – at least in my book. By all reports, this restaurant has excellent food as well. So it's a serious reason to stop at the Presedo Albergue for the night, if only to eat here!
The hotel at Meson do Vento was a good choice, as after a hot and tiring day, we liked having a hotel to relax in, despite the albergue in Bruma containing a portion of the ancient "Hospital" or hostel for pilgrims. Sometimes one has to pick one's battles.
If you want to read all about the more important stuff, like how you can walk the Camino in just 6 days, check out my book.