The international bestseller that inspired many people who thought they were too old, too young, or not fit enough for an adventure.
A shorter Camino in Spain, it follows a thousand year old pilgrimage trail.
They changed the route of the Camino Ingles, and many readers wrote to me about it. 
I went, I walked, I wrote. I'm about to launch the next edition – and you can join the fun by being part of the launch team.
The international bestseller on a 6 day adventure in the Indian Himalaya, trekking to Sandakphu to revel in the best views of Kanchenjunga and the Sleeping Buddha.
 Everest is over the top – walk this doable trail instead.
HI! I'm susan
Bestselling Author, Adventurer and Pilgrim. I am passionate about having adventures, and helping people have their own adventures. After a lifetime in IT, I decided to follow my passion, travel, have adventures and write books about them. For most of my working life I was a technical writer, information architect and content manager and responsible for reams of technical documentation, online help and tutorials. But now I am a full-time author and publisher.

Although no one has yet written the definitive manual on living life fully, I'm doing my best – I have adventures, re-invent my life, and write the "manuals"  to help you either escape for a few hours, or plan your own adventure. I love hiking, camping, and kayaking, though those take second place to my passion for books. I read over a hundred books a year in all genres, I wish I could write that fast – but with two bestsellers in the last three years, while I was working full time, I'm on the way there.

I love to hear from readers of my book, and actually have met some of them on my walks!  I publish my books on Amazon, and love it when readers jump on board to help me launch a book. You can too – I'd love to meet you. 
P.S. For a quick look at my formal photo you can check out my Authorpage on Amazon. But I like this photo, because, it's real.
 So what do you do if you are a woman who just celebrated her 60th birthday and has carried this dream
You go do what Susan Jagannath did, you climb the mountain NOW!
Most Readable…. Informative….. Realistic…… Motivating…..Funny….. and most of all,  after reading this book. I sure want to 🙂
 Thank you Susan for yet another spectacular adventure….my list of potential trails to conquer is growing, thanks to your brilliantly crafted words.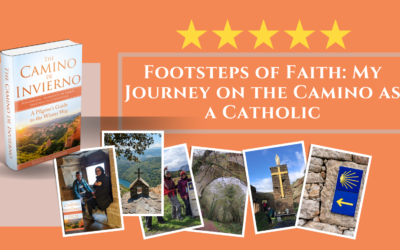 Footsteps of Faith: My Journey on the Camino as a Catholic. Sharing the significance of faith, reflection, and the inclusive beauty of the Camino.
read more