Transcipt Summary
You fulfil it by taking the first step – by walking!
Chasing Himalayan Dreams takes you off to a part of the Himalayas that you might not be familiar with, a ridge overseeing a mountain called Kanchenjunga.
It had been a dream of mine for 40 years to complete this trek going back to my childhood growing up in military bases across north India and the first year of university I spent in Darjeeling. Thats where I fell in love with mountains.
Darjeeling, it's in that little part of northeast India. It's not really eastern India yet, but where India meets Nepal and Tibet. So literally, when you walk along this trail, which I did, you're walking on the border of India and Tibet. When you reach Sandakphu, you can see in the distance Everest, Nepal, and look into the plateaus of Tibet.
The Himalayas sweep down from the west of India, starting in Afghanistan, and come down in this amazing arc over the north of India. They finally peter out over the top of Burma and into the western part of China. So literally, when you're standing there, you can see four countries.
While it sounds beautiful, it's also a trip that requires planning. It's not the kind of thing you can be spontaneous about because you need a local guide. On that note, what are the logistics of the trip? How do you organise it? What's it like, and what do you see?
Where is Kanchenjunga and Sandakphu. What are these places?
Firstly, Sandakphu is just a point on the Singalila Ridge. So the Singalila Ridge is a ridge, and the path is on top of it. To the left is Nepal, and to the right is India, right? As you walk along this, you crisscross between the two countries.It's not guarded by fierce warriors holding guns; I mean, there is heavy protection, but it's for the wildlife and the plants. It's protected because there are plants over there so valuable that they don't want anyone to stamp on them, and kill them because they may go extinct as they take 40 years to grow.
But when you're walking along, you really don't feel any of that stress that you're actually on the border of two countries. You crisscross between the two countries. For instance, you might spend one night in Nepal and the next in India.
It shows you how artificial borders are because people on both sides look exactly the same, eating the same food.
Further, along the Singalila Ridge, at 4000 metres, you come to this point called Sandakphu. At this point, you can see this range of mountains called the Sleeping Buddha. It looks like that. Especially when there is snowfall, it was always full of snow the whole year. It's like this white figure of a recumbent man sleeping across the mountains called the Sleeping Buddha. They're all the different mountains, and of course, the highest point being the Buddha's tummy is Kanchenjunga.
Kanchenjunga has been a sacred mountain for the indigenous people of that area from pre-Buddhist times, and even now, people are not encouraged to climb it ever. However, that's not the only reason. People are not encouraged to climb it because it is very treacherous. And from that point, it's beautiful because they seem to float because of the snow cover over the earth.
So at that point, when you stand at Sandakphu, and even a little before it, you can see the Sleeping Buddha. And way over to the west, you can actually see Everest.
What were the logistics of this trip to see Kanchenjunga?
It was a loop and took three days to go up and two days to come down.
I think it was about just under 70 kilometres walk over five days. It doesn't seem much, but when you get up to 3000 metres, Darjeeling is at about just under 2000 metres, so it's reasonable. However, when you climb up there, you start getting altitude sickness from 2500 metres, which may be about 8000ft. The local guide who we had, said, look, the way the mountain people do it is they don't stride and stomp, but take small steps slowly, literally almost a shuffle. Take small steps slowly, and you will reach there. However, we tended to walk fast and slow down. So that was a lot of the trick of it. And that being said, the mountain people seemed to be walking at super speed, but they were used to it.
Furthermore, we are averaging 10-12 kilometres a day. Everything was vertically uphill, except, of course, when we were coming downhill. But it was quite a stiff climb.
We left Darjeeling, and we started from a place called Dothrey. From Dothrey, we went up, to Tonglu, or Tumling, from where you get your first views of Kanchenjunga. So you have these two twin villages. Tonglu is in India, and Tumbling is in Nepal. That's your first-night halt. From there, you keep walking and come to a place called Kayakata. Until you reach that ridge you think this is not very difficult, it's lovely, undulating countryside. And then, of course, you come to this place called Kayakata, it is switchback after switchback, and you start to ascend really fast. Then you get to the top of the ridge and feel it's not too bad. But of course, by that time, you're so high up that you are struggling.
Side note to keep in mind while trekking at high altitudes like the Kanchenjunga
So you need to be aware of all these things. And I find a lot of people take altitude sickness very casually. They think that, oh, I'm tough, I can do it, I'm fit, I'm young, I can do it, it's got nothing to do with anything. Altitude sickness is just about oxygen and can hit anyone, anytime. Similarly, I did struggle a lot with the altitude, because I thought I was 16. Yes, that was the problem. We got to Sandakphu on the third day. And I know the guide was saying, today is only eight kilometres.
Yeah, but those eight kilometres were nearly vertical!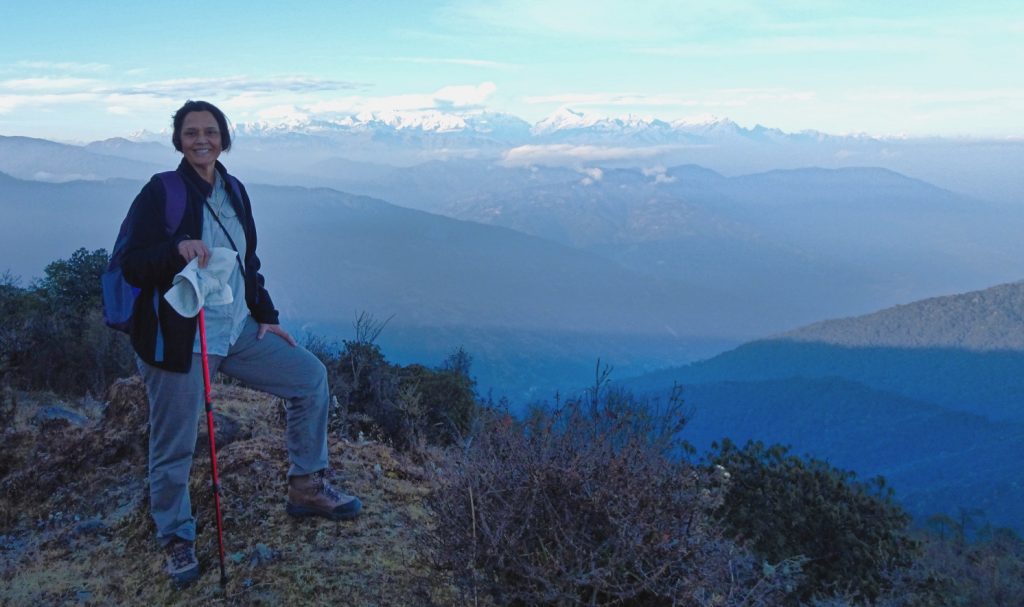 How was this trip to Kanchenjunga organised?
I looked at it and thought booking all these places would be difficult because it was winter, and not everything could be open. So I was a bit worried about that. Then a friend of mine suggested a tour operator we had used before. We still had to walk, but we had a good time. We could talk to the guides, and they would explain stuff to us. Even ask us what we'd like to eat? What's interesting is the worst thing about altitudes are you lose your appetite. I lost mine. The guides would ask, what do you want to make? We'll cook anything for you, but I was not hungry.
I didn't realise the first time we went on the Himalayan trek, I was a little uncomfortable for a couple of nights. My main discomfort was that I couldn't sleep at altitudes. It was altitude sickness.
I thought, since I'll be so tired from all that walking, I'll be able to sleep, and even if I can't, it's okay. But because this trek was all at high altitudes, I was tired and uncomfortable, and it was quite difficult. While I didn't take Diamox on this trek, never again, I said
My top tips for someone who's never been to see Kanchenjunga?
Firstly, I would definitely say read my book, read anything else. Secondly, try and definitely travel with a tour operator. Thirdly, remember that the local government of Darjeeling, the district of Darjeeling and Sandakphu, is in the northern part of West Bengal. They have slightly different rules than the rest of West Bengal. The language spoken there is not Bengali but Nepali, and the people there have an autonomous region. So you cannot go to Sandakphu unless you hire a local guide. So you have to have a local guide.
And this is one of the reasons, of course, for tourism. Support the economy and also it's to ensure that people don't get lost and wander off into Nepal or Tibet. In addition, it's important to remember not to pluck the plants and damage them. That area also has the Red Panda supported by the Red Panda breeding programme. It's one of the few areas successfully breeding such a rare animal.
Finally, my tip would be to make your base in Darjeeling. Darjeeling has been on the Western tourist trail for many years, so it is well set up. You can find tour guides there, or everyone is online now. Choose a guide who will use the local facilities and give yourself enough time.
Don't try and rush up. Sometimes people will say you can do it in two days if you drive up. That's not the point. Definitely give yourself time. Don't believe that there's no such thing as altitude sickness. So give yourself time to enjoy it because there are many things to savour. The other thing you could do is to try and avoid the festival season, which is the Divali or Durga Puja season in Bengal because you'll have quite a few crowds then because people come up from Calcutta. It's best to try and avoid that time. That is why December is a good time, because otherwise October, or November, if you get caught in the Puja rush, and you could get a lot of crowds over there, there'll be more rush in the tea houses.
I speak more about my experience in Kanchenjunga in my book and a recent podcast with Holly Worton. You can give it a listen to learn more.
My New Book – Camino Invierno
On to the next adventure
I am currently working on another book, a different type of Camino. It's called the Camino Invierno, which means the winter Camino.
It's what mediaeval pilgrims would do if they couldn't stop in Ponferrada and spend a month or two there waiting for the terrible snows to get over, and they would loop down. So the path loops down south from the Camino Frances, skirts the mountains and then goes to Santiago. So that being said, it's still mountainous. The book will be out in April for those interested in another adventure.